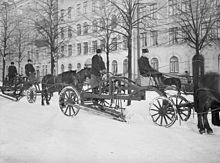 The first snow plow
Posted on January 5, 2018
Did you ever wonder about the first snow plow? Read on for funny pictures of inventive snow plows and for a short history lesson (thanks to Wikapedia) on the development of the snow plow.
The first snow plow
According to WikipediaThe first snow plows were horsedrawn wedge-plows made of wood. With the advent of the automobile, a number of inventors set about to improve existing snow plows. In the US, patents were issued for snow plow improvements at least as early as 1920. The first snow plow ever built specifically for use with motor equipment was in 1913. It was manufactured by Good Roads Machinery in Kennett Square PA. and was designed to meet the exacting requirements outlined by engineers of the New York City Street Cleaning Bureau.
Silly snow plows
People do a lot of weird stuff when it comes to snow removal. Some of these snow plows are just silly others funny. You can see some crazy snow plows, and some that actually make sense. There are also some snow plow we shouldn't talk about. We have included some creative snow plow photos below. Take a look and have a laugh.
---
Photo Gallery